Kelley & Mike Livelsberger

435 E Canal Road York, PA 17404   

717-880-8571

mikellfarm@juno.com

Horses For Sale   June 18, 2021       

Mikell Farm   Performance Horses

Photos and videos will be up soon!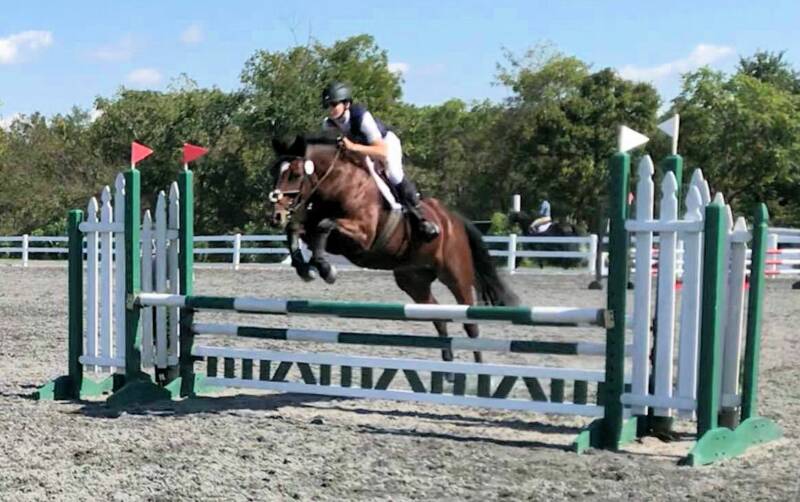 Kashi 

Bay 14.2  Foaled 6-19-2007

Southwest Spanish Mustang Assoc Registration # 2742

Koshi is just super talented pony that loves to jump! She has easily jumped 4' and schooled courses at 3'6" with flying changes. She has shown jumpers at 3' and evented and placed very well and winning at Loch Moy in the jumpers. She has a very limited Indian shuffle (pace) she can trot but prefers to pace.  She is outstanding in the pony jumpers.  She LOVES kids and is super easy to get along with.  SHe is super sweet, loves attention and will stand to be brushed all day!

She is a registered Spanish Colonial Choctaw Mustang that is part of the Choctaw Conservation Program.   There are very few of the original breed that were part of the Choctaw Nation and direct descendents of the ponies that survived the "Trail of Tears"   There are estimated that there are less than 300 of these left in the country.  Here is your opportunity to own a part of this Country's heritage and to help preserve it.

Not only is Kashi's heritage rare, but she is very talented and well rounded in her training.  She trail rides the best alone or in company, is a superb jumper, great for cross country, pony club etc. Very easy keeper, do not need shoes, lives on air and is willing to do whatever you ask of her.  Owners are downsizing due to their daughter getting older and out growing this lovely pony.

Loads & Hauls like a pro, no vices or issues.  Up to date on everything, owned by a veterinarian.

$9000

Cinda

Fell Pony Bay Mare  14.1  12yo.

Stunning bay mare that has competitive experience in dressage, hunters, jumpers and eventing.  She also rides western and will trail ride anywhere!  She is very big bodied and can carry any adult rider without issues.  This mare makes everyone's head turn!!

Cinda is a outstanding dressage pony with her great movement and presence in the ring.  Scoring in 2020 at IEO dressage shows in the 70's in training level, moving into 1st level in the fall.  Her jumping ability is equally impressive  with auto changes. She has jumped to 3' with no issues.  Shown hunters and jumpers at non rated shows. She packs around Lock Moy cross country like a pro!  She trail rides the very best and is just a super solid citizen by herself or in a group. She has fox hunted second flight and done some hunter paces.   Her owner previous to this one has MS and used her as her trail horse until she could no longer ride.  We were also told that she drives but have never hitched her. She is a forward, semi strong ride that packs you around a course or in the dressage arena.  She has tons of buttons and is a ton of fun for a intermediate level rider. Excellent for a Pony Clubber or Event rider. 

Cinda is sound, but can use a little maintenance when in really heavy work. She was vetted toughly when purchased by her current owners and is clean except for a little arthritis in her hocks.

Sadly outgrown (rider in photos is 5'9")  Up to date on everything, owned by a veterinarian.

$22,500